What a wonderful town!
I'm so sorry to post this an entire week and a half after the fact, but I got busy once we ended up ADOPTING A DOG. But more on her later. First, the meetup!
I was so giddy leading up to this trip, it was totally unreal. I went to New York for a meetup organized by Lauren of
Lladybird
, got to meet a bunch of other amazing bloggers (and non-bloggers!), go fabric shopping in the Garment District (Hello, Mood!), hang out with some of Greg's friends, eat some incredible food and generally nerd out. I seriously had the best time.
I know it sounds all kinds of crazy to drive four hours to go fabric shopping, but the prices and selection in New York are way better than they are here.
When we arrived in New York, we parked the car and immediately headed to Mood for the meetup, which was awesome and awkward and amazing and a million other adjectives.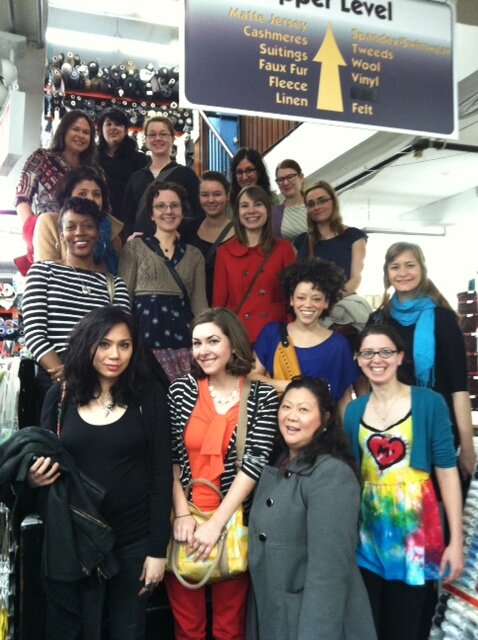 Photo stolen from @Mood_Fabrics
Look at these beautiful ladies! From left to right, starting at the top, we have
Shelley
,
Meredith
,
Gaby
,
Charlotte
,
Lee
, Kayleigh,
Carly
, Kim,
Nettie
,
Sonja
,
Lisette
,
Janice
,
Lauren
,
Oona
,
me
,
Devra
and Rosie. (Oh goodness, PLEASE correct me if I got that wrong!)
We sent about an hour and a half tearing around Mood. I wish I'd had even more time! I mostly just stuck to the main floor -- wish I'd had time to go upstairs! I was on a mission to buy fabric for a ton of upcoming projects: denim for a Ginger, knits for Renfrews, printed cotton for a Lonsdale, silk blends for work blouses. I went with a whole list in my
little book
.
After Mood, we went to Fabrics for Less and Chic Fabrics, as well as Pacific Trimming.
And then we went for drinks and snacks at Houndstooth Pub. I sat between Lee, who was wearing a beautiful bamboo wrap sweater she made (I covet it!) and Meredith, who just started a blog after the meetup. I wish I'd gotten to spend more time talking to everyone -- they were all so cool! Shelley was super nice and found me on Twitter the night before the meetup, so we bonded over mutual giddiness. Lauren let me try her Minoru coat on -- let's just say I need to cut a slightly larger size than she did. She is so tiny in real life! (OK, OK, so maybe part of it is that I'm tall.) Oona has the loveliest speaking voice and I'm convinced she knew every single person in Mood. Charlotte is studying in D.C. -- and she too is disappointed by the selection and prices at G Street! I won't go on and say something about everyone, though I certainly could!
Instead, I'll show you what I bought:
Everything
That piece of denim was much larger -- but I already made a skirt from it. The grey wool is from Azaymoon, the teal knit and black silk print are from Chic Fabrics and the tan with black print is from Fabrics for Less. (I think -- I may have reversed Chic and Fabrics for Less -- the stores are very similar and are owned by the same people.)
Knits
Funny story about the printed cotton on the left in the photo below. It was in a pile of cut fabrics at Fabrics for Less, and I pulled it out and asked the shop owner what it was. He spread it out on the table -- it looked to be about a yard -- and said "$10!" Well. That answered that question!
The fabric on the right will be my Lonsdale dress.
OK, so I know I'm the worst copycat in the world, but Lauren pointed out that bow fabric in the back -- she'd bought some the day before -- and when I went back the next day for the aqua knit in the knits picture, I just couldn't resist. I bought just enough for a blouse. It was too pretty. Also, it's Betsey Johnson. Um, yes please!
Silk blends
Bonus picture of my new assistant, Lyra. More on her in a separate post!